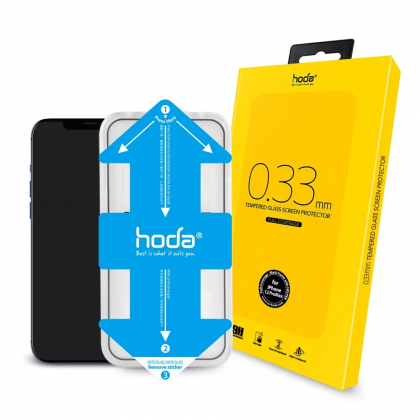 HODA 2.5D 0.33mm Full Coverage Helper iPhone 12 / Pro / Pro Max / Mini Tempered Glass Screen Protector
Clean and Simple: Its oil-resistant coating repels natural skin oils making Glass simple to keep clean and looking great.
Protective: Made of fortified tempered glass, it delivers unprecedented scratch protection, use it without fear of scratching. Full coverage for device protects more.
Crystal Clear: High-grade tempered glass provides ultimate clarity. At only 0.3mm thin, Glass offers ultimate touchscreen sensitivity.
Ultra-Smooth: Its highly polished surface and tapered edges feel great and prevent snags when sliding devices in and out of pockets. Cases friendly.
Easy Installation: Glass features a sleek adhesive layer that goes on quickly and cleanly. Simply align it, press it, and watch as Glass does the rest.